Downloads: Angel: Full Sim v. 2.0 (Wilson Jermaine Heredia)


Details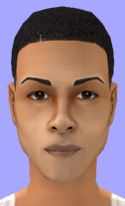 Full Sim with face and custom skin modeled after Wilson Jermaine Heredia. v. 2.0

Angel/Wilson was the first celebrity Sim I ever made - after getting a lot more practice while making the rest of the cast, I went back and realized I wasn't quite happy with my original Angel. This is a new and improved version (in my opinion, anyway), which I am much happier with!

***NOTE: If you have already downloaded the original Angel, this will not overwrite anything. They can both coexist peacefully in your game. :) ***
Includes:
Custom skin
Custom hair with new mesh
Custom eyebrows
Custom eyes by Joanne Dyer (see additional credits below)
Maxis white tank top, jeans, hair and eyeliner
Category in Game
Sim: will show up in the pre-made Sim bin when you go to create a new Sim
Skin: Genetics > Skin Tone (custom)
Hair: Genetics > Hair > Custom
Eyebrows: Facial Hair, Makeup & Glasses > Eyebrows (custom)
Eyes: Genetics > Eye Color (custom)
Notes:
The tweezed Angel eyebrows are the ones that are included with the Sim. Wilson's regular eyebrows are used in some of the pictures for the sake of comparison, and are available separately (see below).
The adult male face is the only skin file that is customized - the rest are the same as the second-lightest default Maxis skin. I may eventually make another version that is customized for all ages.
Additional Credits:
Also Pictured but NOT Included (additional screenshots below):




Screenshots
Click on a thumbnail to view a full-size version in a new window.




Files
Click on a file name to begin downloading. For instructions and other help, check the download General Info.

SIM_PRS4R_AngelWJHv2_122806.rar (4.44MB)