Details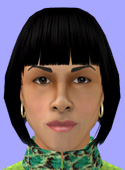 Angel's famous black bob wig. This is the plain version (without the flower) from the movie.
Includes:
Hair only
Category in game: Genetics > Hair > Custom
Gender:
Male
Ages:
Young Adult, Adult, Elder
Notes:
The hair is currently not animated the way normal Maxis hair is, but since I have recently read about a fix for that I hope to post an updated animated version soon.
This behaves like a normal hairstyle and not a wig, so it remains the same no matter what the Sim is doing. I'm working on a version that would appear as the black bob when the Sim is dressed, and change to Angel's out-of-drag hairstyle when the Sim is sleeping, showering, etc. (It would work the same way as current Maxis hairstyles that have a hat attached.)
Additional Credits:
None
Also Pictured but NOT Included (additional screenshots below):




Screenshots
Click on a thumbnail to view a full-size version in a new window.






Files
Click on a file name to begin downloading. For instructions and other help, check the download General Info.

PRS4R_BlackBob_061006.rar (77.93KB)