Details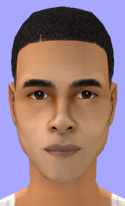 Wilson's natural eyebrows - these are an alternative to the Angel eyebrows that come with the Angel Sim.
Includes:
Eyebrows only (new mesh plus black and gray recolors)
Category in game: Facial Hair, Makeup & Glasses > Glasses
(the thumbnail will show the default Sim head, but if you hold your cursor over the icon it will say 'Wilson Jermaine Heredia' or 'Wilson Jermaine Heredia (gray)')
Gender:
Male
Ages:
Young Adult, Adult, Elder
Notes:
These were created as an accessory rather than actual eyebrows because the shape of Wilson's real eyebrows is so different from his tweezed Angel brows - by making them an accessory, Wilson's eyebrows are not distorted by the Sim's facial shape and brow arch.
Two recolors are included - black for young adult and adult, and gray for elder. The eyebrows will not automatically change when the Sim ages - you will have to change accessories.
Can be worn at the same time as other accessories
Additional Credits:
None
Also Pictured but NOT Included (additional screenshots below):




Screenshots
Click on a thumbnail to view a full-size version in a new window.





Files
Click on a file name to begin downloading. For instructions and other help, check the download General Info.

PRS4R_WilsonBrows_122406.rar (25.26KB)