Details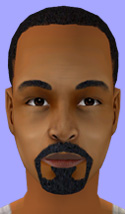 Full Sim with face and custom skin modeled after Jesse L. Martin.
Includes:
Custom skin
Custom hair with new mesh
Custom eyebrows
Custom beard
Custom eyes by Joanne Dyer, recolored with permission (see additional credits below)
Maxis black t-shirt and jeans
Category in Game
Sim: will show up in the pre-made Sim bin when you go to create a new Sim
Skin: Genetics > Skin Tone (custom)
Hair: Genetics > Hair > Custom
Eyebrows: Facial Hair, Makeup & Glasses > Eyebrows (custom)
Beard: Facial Hair, Makeup, & Glasses > Beards & Mustaches (custom)
Eyes: Genetics > Eye Color (custom)
Notes:
The skin files for both genders and all ages are a custom shade that falls between the darkest and second-darkest Maxis skin tones. The adult male face is the only face that is custmomized. I may eventually make another version that has customized faces for all ages/genders.
The hair mesh is customized for young adult, adult, and elder males only. The other ages are the same as the Maxis "close cropped" haircut.
Additional Credits:
Custom eyes are a recolor of Joanne Dyer's dark brown eyes. Her original colors are available at Mod the Sims 2.
Also Pictured but NOT Included (additional screenshots below):




Screenshots
Click on a thumbnail to view a full-size version in a new window.




Files
Click on a file name to begin downloading. For instructions and other help, check the download General Info.

SIM_PRS4R_CollinsJLM_070306.rar (3.98MB)