Details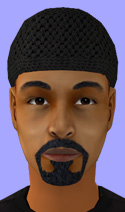 Collins' knit cap. This is the black version, which was used in the movie and some of the stage shows.
Includes:
Knit cap with new mesh
Category in game: Facial Hair, Makeup & Glasses > Glasses
Gender:
Male
Ages:
Young Adult, Adult, Elder
Notes:
Can be worn at the same time as other accessories
I may eventually make a version that works for all ages/genders
Additional Credits:
None
Also Pictured but NOT Included (additional screenshots below):




Screenshots
Click on a thumbnail to view a full-size version in a new window.





Files
Click on a file name to begin downloading. For instructions and other help, check the download General Info.

PRS4R_KnitCap_070306.rar (31.2KB)