Details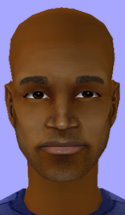 Full Sim with face and custom skin modeled after Taye Diggs
Includes:
Custom skin
Custom hair with new mesh
Custom eyebrows
Custom eyes by Joanne Dyer, recolored with permission (see additional credits below)
Maxis stubble, blue t-shirt, and jeans
Category in Game
Sim: will show up in the pre-made Sim bin when you go to create a new Sim
Skin: Genetics > Skin Tone (custom)
Hair: Genetics > Hair > Custom
Eyebrows: Facial Hair, Makeup & Glasses > Eyebrows (custom)
Eyes: Genetics > Eye Color (custom)
Notes:
The adult male face is the only skin file that is customized - the rest are the same as the darkest default Maxis skin. I may eventually make another version that is customized for all ages.
The hair mesh is customized for young adult, adult, and elder males only. The other ages are the same as the ones that go with the default Maxis bald head.
Additional Credits:
Custom eyes are a recolor of Joanne Dyer's dark brown eyes. Her original colors are available at Mod the Sims 2.




Screenshots
Click on a thumbnail to view a full-size version in a new window.







Files
Click on a file name to begin downloading. For instructions and other help, check the download General Info.

SIM_PRS4R_BennyTD_120406.rar (3.88MB)