Details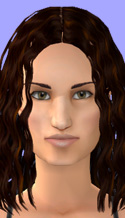 Full Sim with face and custom skin modeled after Idina Menzel. I wasn't quite sure how to package this one since she has several different styles. She comes as pictured on the left, with Maureen's hair but no makeup. Links to everything else can be found below as usual.
Includes:
Custom skin
Custom hair with new mesh
Custom eyebrows
Custom eyes
Maxis blue tank top, jeans, eyeliner, and blush
Category in Game
Sim: will show up in the pre-made Sim bin when you go to create a new Sim
Skin: Genetics > Skin Tone (custom)
Hair: Genetics > Hair > Custom
Eyebrows: Facial Hair, Makeup & Glasses > Eyebrows (custom)
Eyes: Genetics > Eye Color (custom)
Notes:
The skin files for both genders and all ages are a custom shade that is a little lighter than the lightest Maxis skin tone. The adult female face is the only face that is custmomized. I may eventually make another version that has customized faces for all ages/genders.
The hair mesh is customized for young adult, adult, and elder females only (the alpha has been changed for child through elder). The other ages are the same as the Maxis wavy hair. The color is a dark brown for all ages except elder, which remains white. Ages child through adult have the highlights.
The hair is animated, with the same movement as the Maxis wavy hair.
Additional Credits:
None
Also Pictured but NOT Included (additional screenshots below):




Screenshots
Click on a thumbnail to view a full-size version in a new window.




Files
Click on a file name to begin downloading. For instructions and other help, check the download General Info.

SIM_PRS4R_MaureenIM_080406.rar (3.78MB)