Details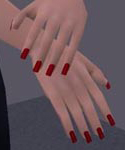 Long nails with many nail polish recolors available. See the thumbnails for previews of each recolor set.
This is a new mesh - even if you downloaded the nail polish mesh for short nails, you will need this new mesh in order for any of the recolors on this page to work.
Includes:
Each recolor file contains the color specified in the file name
The last file in each subgroup contains the full set of recolors for that group (you will still need to download the mesh separately)
The MESH file contains the mesh only
Category in game: Facial Hair, Makeup & Glasses > Glasses
(the thumbnail will show the default Sim head, but if you hold your cursor over the icon it will say 'ShadyLady482's Long Nails' plus the color name - for example, 'ShadyLady482's Long Nails: Red')
Genders:
Male, Female
Ages:
Child, Teen, Young Adult, Adult, Elder
Notes:
You can adjust the shape and length of the nails by editing the alpha .bmp file.

(See the last thumbnail for examples - the middle nail shows the maximum length of the mesh, and the other two show differently shaped tips.)

Can be worn at the same time as other accessories
Stays on the Sim at all times, including showering and swimming
Slightly reflective
I don't mind if people make recolors of these as long as you do not redistribute the mesh or use them for anything Rent-related. Please link people back to this page so they can download the original mesh themselves. If you do recolor, I'd love to see what you've made!
Feel free to request other colors/designs for future recolor sets
Additional Credits:
None
Also Pictured but NOT Included (additional screenshots below):




Screenshots
Click on a thumbnail to view a full-size version in a new window.







Files
Click on a file name to begin downloading. For instructions and other help, check the download General Info.

COLOR_PRS4R_NailPolishLongPink_091306.rar (27.51KB)


COLOR_PRS4R_NailPolishLongBlack_091306.rar (18.4KB)


COLOR_PRS4R_NailPolishLongFrench_091306.rar (31.19KB)


COLOR_PRS4R_NailPolishLongBlue_091306.rar (28.46KB)


COLOR_PRS4R_NailPolishLongOrange_091306.rar (27.44KB)


COLOR_PRS4R_NailPolishLongPurple_091306.rar (28.82KB)


COLOR_PRS4R_NailPolishLongGreen_091306.rar (26.42KB)


COLOR_PRS4R_NailPolishLongYellow_091406.rar (29.87KB)


COLOR_PRS4R_NailPolishLongWhite_091306.rar (23.81KB)


COLOR_PRS4R_NailPolishLongRed_091306.rar (24.28KB)


COLOR_PRS4R_NailPolishLongDarkRed_091306.rar (22.18KB)


COLOR_PRS4R_NailPolishLongDarkPink_091306.rar (28.55KB)





SOLIDS_PRS4R_NailPolishLong_091306.rar (310.73KB)





MESH_PRS4R_NailPolishLong_090906.rar (32.7KB)