Details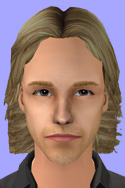 Roger's long hairstyle from the movie.
Includes:
Hair with new mesh
Category in game: Genetics > Hair > Custom
Gender:
Male
Ages:
Young Adult, Adult, Elder
Notes:
The long hair mesh is customized for young adult, adult, and elder males only. The other ages are the same as the Maxis "messy" haircut. The color is a dark blonde for all ages except elder, which remains white.
Additional Credits:
None
Also Pictured but NOT Included (additional screenshots below):




Screenshots
Click on a thumbnail to view a full-size version in a new window.






Files
Click on a file name to begin downloading. For instructions and other help, check the download General Info.

PRS4R_RogerHair_091706.rar (988.97KB)