Details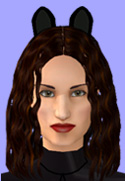 Maureen's cat ears that she wears with her New Year's catsuit. I based these on the movie version, but I'm not sure yet if the stage version is actually any different.
Includes:
Ears with new mesh
Category in game: Facial Hair, Makeup & Glasses > Glasses
Gender:
Female
Ages:
Young Adult, Adult, Elder
Notes:
This was designed specifically for use with Maureen's hair. There is no guarantee that it will look right with other hairstyles, although it does work with some. (The handband part is alpha editable, so if you make a recolor and remove the band it will work with more hairstyles)
Can be worn at the same time as other accessories
Additional Credits:
None
Also Pictured but NOT Included (additional screenshots below):




Screenshots
Click on a thumbnail to view a full-size version in a new window.





Files
Click on a file name to begin downloading. For instructions and other help, check the download General Info.

PRS4R_MaureenCatEars_010107.rar (24.54KB)